Penang is a food haven, to say the least.
In my first post on food in Penang, I covered the food that can be found along Lorong Selamat and and Lebuh Keng Kwee.
Here is the second part of my two-part series on Penang food:
___
We took a 20 minute bus-ride from the city centre of Georgetown, Penang to the Gurney Drive Food Market next to Gurney Plaza, along Persiaran Gurney.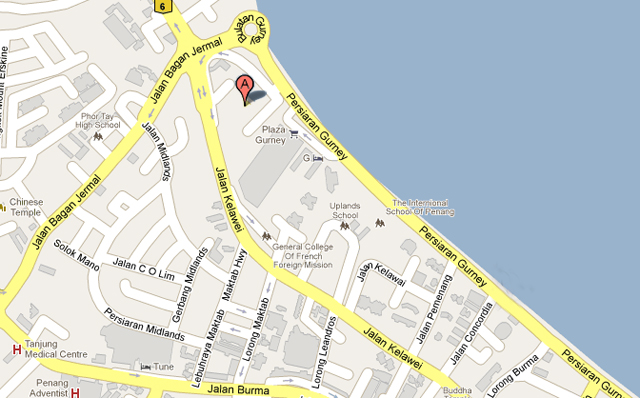 Otak-otak
One of my favourite dishes at the Gurney Drive Food Street was Otak-Otak, a spicy 'cake' made with fish meat and fish paste, which is wrapped in banana leaf then steamed. It was soft, fragrant, and melted in my mouth.
Rojak Pasembur
While many people often go to Penang for its Fruit Rojak, we'd heard that the Rojak Pasembur was good and decided to give that a try.
Rojak, which means "mixture" in the Malay language, is as its name suggests, a mixture of different items. Rojak Pasembor, which is similar to the Indian Rojak that we in Singapore may be familiar with, is a combination of beans sprouts, fried octopus, prawn fritters, fish cake, among other food items, and served topped with a sweet yet spicy sauce.
To be frank, we thought that this dish was expensive and overrated, and to make matters worse, the crab, which we paid a lot for, could not be consumed as its meat could not be removed from its shell. I did, admittedly, enjoy the pieces of fried octopus that we had.
If anything, buy the Rojak Pasembur for some entertainment – the owner of this particular stall (pictured above, bottom left) chops up the food items according to the beat of the music he plays. Upon serving, he dances on the spot, and makes a turn as he pours the sauce onto the plate of food.
Price: Varies according to the items that you choose. As we got the crab and the octopus, this dish amounted to RM28, a hefty price to pay for Malaysian street food.
Lok Lok
There is something very fun and communal about eating Lok Lok –  A group of people standing around the stall, grabbing the sticks of whatever we want to eat, dipping the sticks into the boiling water until they are cooked or warm (most of the items are already cooked before hand).
When ready, one can either eat it on its own or pour some of the sauces (see right most photo above) – chili, sweet sauce, a mix of chili and sweet sauce, or satay – on it and it'll be ready to be devoured.
This dish reminded me a lot of another Chinese dish, Yong Tau Foo, except in Yong Tau Foo, the items are cooked by the stall owner and served in a bowl with soup, while the sauces are served on the side.
Price: About RM0.70 per stick.
___
We were on a search for a good breakfast place, and could not find one near our accommodation that was open. A quick search with a local that passed by us led us to this old coffeeshop on the corner of Lebuh Kimberly and Jalan Kuala Kangsar. And oh boy did we not regret eating here: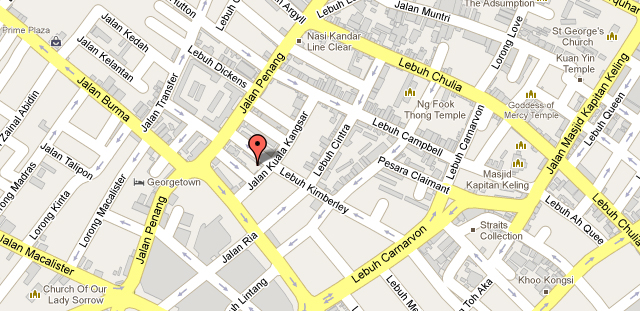 Chee Cheong Fun
This is my second favourite dish, the first one being Assam Laksa.
A perfect breakfast dish, the chee cheong fun in Penang is different from other ones I have tried elsewhere. Besides the sweet sauce that is used in the sweet variant of chee cheong fun, a sticky scrimp paste (or 'hei kor', what is also added to Assam Laksa) is added, creating a sort of sweet yet savoury juxtaposition, which I absolutely loved.
I could easily slurp up two plates of this dish and wanted to go for a third, but decided to save the stomach for other delicious Penang food.
___
Kopi peng (Iced Coffee – or literally, Coffee with milk ["kopi"] Ice ["peng"])
A staple in most coffeeshops, the kopi peng in Penang is sweet, smooth, and packs a punch. I've never really taken to drinking kopi peng back home in Singapore, but ever since drinking the kopi peng in Penang, I've been drinking more kopi peng in Singapore, in hope of reliving those moments in Penang.
And I would think my companion, who drank about seven cups of this delight over the two days we were in Penang, can attest to the wondrousness of this refreshment.
___
While Penang is famous for its food, often or not, this food cannot be transported out of the Penang. However, one way of enabling your family and friends back home to savour the goodness of Penang food would be to buy them a gift of pastries or biscuits.
Ghee Hiang
Established in 1856, Ghee Hiang is Penang's oldest pastry shop. Famous for its tau sar pneah (mung bean biscuit), Ghee Hiang serves up other items such as Beh Teh Saw, Oriental Almond Cookies and Sesame Oil.
There are several other of such shops, including Him Heang. Many who have bought items from both shops say that they're both good. However, I cannot attest to that as I did not try Him Heang. If anything, Ghee Hiang does have a longer history, and hence based on mere deduction, probably has a more "original" taste.
To read more about the Ghee Hiang vs Him Heang and other food rivalries, read this article.
Ghee Hiang is available at several locations. The main outlet can be found at 216 Macalister Road (corner of Jalan Macalister/Macalister Road and Jalan Anson/Anson Road), and open daily from 9am to 9pm.
Price: Varies according to size, quantity, and type of the products you choose.
___
And this finally brings me to part two of my Penang Food series. To view the first part of my Penang Food Series, click here.
___
Special thanks to Alilfatmonkey, Ewen and Ivan for food recommendations