Malaysia Airlines, on 26 February 2011, launched a service on their Facebook Page that allows users to book tickets, check-in, and see if their friends are headed the same direction, or perhaps even booked on the same flight.
This application, named MHbuddy (MH being Malaysia Airlines codename), includes some other social components such as allowing travellers to view where their friends are seated and in turn for them to choose their seats accordingly, find friends who live in the city the traveller is headed to, and adding friends as an MHbuddy.
And of course, not forgetting the option for users to share their itineraries on their walls immediately if they so wish to.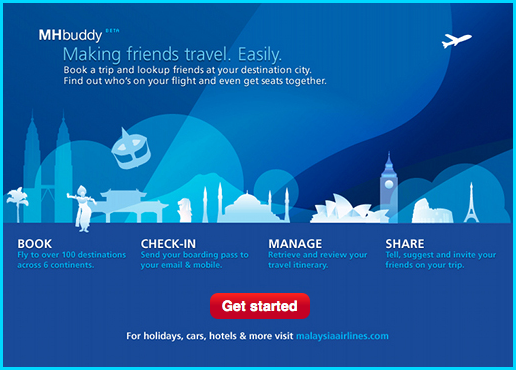 Photo Credit: MHbuddy
While the ability to book tickets via a Facebook app is not entirely new, with airline companies such as Delta Air Lines offering these services from as early as August 2010, Malaysia Airlines has indeed upped its game in the social media realm with the additional features offered.
This airline is so far possibly the first airline that has truly understood both the social and e-commerce elements of Facebook, successfully integrating the innate need for people to connect with their friends and the capability of carrying out transactions on the social network.
Now, has anyone tried booking their tickets via this application? I'll be interested to know how well it works and secure it really is. Try it here: http://www.facebook.com/malaysiaairlines
Sources: Malaysia Airlines, Reuters, Penn-Olson, ZdNet Asia, Mashable