Any travel enthusiast who has been on Twitter long enough would probably have heard of Traveller's Night In (hashtag #TNI), a virtual event organised by ZipSetGo where travellers met on Twitter every Thursday at about 330pm – 5pm EST, to chat on travel topics picked for that week.
This is how it worked: a topic will be picked for that week and 10 questions pertaining to the topic will be discussed. Over the one and a half hours, a new question will be revealed every 10 minutes and anyone who wanted to participate and answer these questions could. It was based on such a simple, yet absolutely brilliant format, and this became a great way for travel twitter users to connect, communicate and network.
On 25 January 2011, however, a new virtual " tweetup", if I may call it, of a similar style emerged – the name of this new twitter get-together? Travel Talk on Twitter (or referred to as #TTOT by twitterers). #TTOT, the brainchild of Melvin, the founder of Traveldudes, unlike #TNI, runs two separate sessions – one at GMT 9:30am and the other at GMT 9:30pm every Tuesday. Also, #TTOT only covered five questions, compared to #TNI's 10 questions.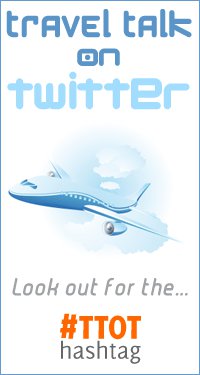 Photo credit: http://www.facebook.com/TravelTalkOnTwitter
I had a burning question though. If #TNI had already existed, why the need for #TTOT?
#TNI has, in the past few weeks, been making waves in the blogosphere and twitterverse. #TNI, which started as a travel community effort, had most recently gone down the sponsorship route – brands could pick their questions and people could answer. This is when it started getting complicated. It was no longer simply about the travel community serving the travel community. It was now seemingly starting to evolve into a money-making enterprise where companies, with an agenda, had a means of pushing their cause to a targeted audience.
To complicate matters further, an e-book, which was made up of twitter users' replies to the #TNI questions, was published and put on sale. A problem arose when it was realised these twitter users did not, in actual fact, give the publishers the permission to publish their tweets. This further upset twitter users as the hosts had used these twitter users' tweets to make money for themselves and was not transparent about it from the onset. A huge discussion on Nerd's Eye View (Pam Mandel) about rights to one's owns tweets and hidden terms and conditions ensued, and things started to look ugly.
The hosts of #TNI, pressured by the aforementioned discussion and in an attempt to improve the situation, later announced that only 19 copies were published and that the profits were given away to charity. However, by then the issue had already been magnified to the point where some participants and co-hosts of #TNI, including Roni Weiss, had decided it was time to call it quits.
Could the abovementioned be the real reasons and motivations behind the emergence of #TTOT?
I had a quick chat with #TTOT's founder, Melvin/Traveldudes, to hear what he had to say. (Editor's note: In an attempt to get both sides of the story, I also wrote in to the team at ZipSetGo. As of point of publishing, the team could not be reached for comment.).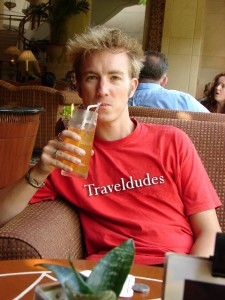 Melvin, formerly a co-host of #TNI, was one of the driving forces that helped #TNI gain success.
He, however, was "very disappointed" with the changes that #TNI faced recently; that was when he decided to stop co-hosting. On why he left #TNI, he said: "It wasn't that much fun anymore, the moment the sponsor chose topics and questions."
He added: "I like when such events are run by the community and not single companies, sites or whatever. That's what makes them successful."
When asked about the e-books and the sponsorship, Melvin said: "I think it's not wise to try to make money with social media directly. Twitter and other sites are more platforms to promote yourself."
"If you decide to earn money via social media platforms directly, you should at least also share the money with the people who made the event successful. This would mean all the travellers who attended the event," he added." If you don't want to do this, you should at least inform the users properly, so that they can make an informed decision."
Since leaving #TNI, Melvin started #TTOT and hopes to make it a community that serves the community.
He said: "As I really liked the fun travel chats in the past, I was thinking of how such an event could run different. The answer is simple: the social and the community way!"
To ensure that the community gets involved, participants are able to submit topics via the Facebook page, after which, one topic will be picked for the week. For instance, the topic for today (31 January 2011) is "City Travel". Participants can also submit their questions pertaining to the topic, and five questions will then be selected for the #TTOT sessions.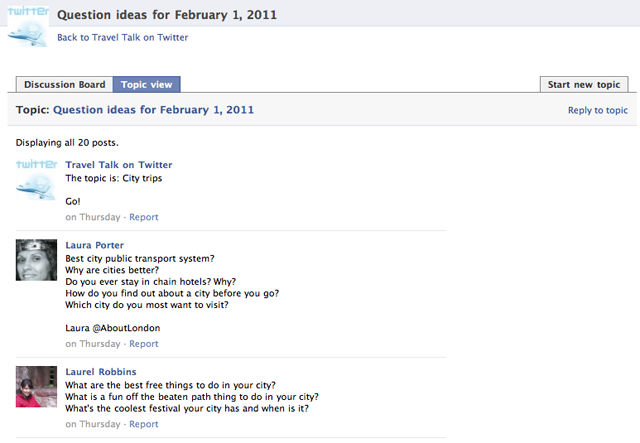 Reiterating the importance of a community, Melvin said: "All future changes would be discussed, defined and maybe even voted for, by the travel community."
He added: "If there should be companies who sponsor prizes in the future, it would be a decision that the community will make. But I'm sure that there won't be payments going to the hosts! This would be unfair, as the travellers bring the success and not the hosts alone."
When asked why he wanted to start #TTOT, Melvin said: "The inspiration was actually the fun I had co-hosting #TNI for the last year. I've met so many interesting people, learned a lot and had some good fun."
Another motivation behind #TTOT was the want to cater to more people in the travel community on Twitter. #TNI only had one session in a day, and this catered largely to people in the Americas and to some in Europe. #TTOT, however, holds two sessions in a day, and this would allow practically everyone in every corner of the world to participate.
"Big parts of the world weren't able to join. That was never possible with just one session," said Melvin. "That's why I thought it would be cool to have a travel talk on Twitter with two sessions."
Although #TTOT is very new in the social media scene, this twitter travel chat initiative has already received huge support from the community. To illustrate, #TTOT saw some 2,625 tweets during its first day. Despite the controversy, #TNI continues to have a large following, accumulating some 1,638 tweets on its session two days later.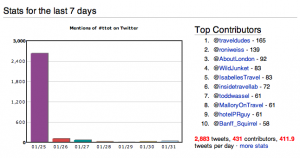 #TTOT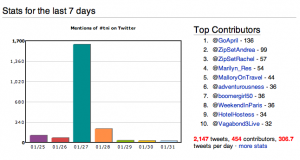 #TNI
On long-term visions for #TTOT, Melvin said that he has no concrete plans for the future just yet.
"I would be happy if it becomes a worldwide and weekly fun event on Twitter," said Melvin. "It's up to the community how #TTOT will develop in the future or how it will change. Most importantly, we must keep it a fun event."
Thank you to Melvin/@Traveldudes for answering my questions.
I will provide an update should the team at @ZipSetGo reply.
Credits to:
Traveldudes
ZipSetGo
Influencersintravel
Roni Weiss
Nerd's Eye View