Two days of pure gastronomic indulgence – That's exactly what my short trip to Penang, Malaysia was all about.
Moving from stall to stall, we walked through the five-foot ways of the shophouses in the historical town of Georgetown, on Penang Island, in search for the best food in the state.
It is not difficult to find good food in Penang. After all, Penang is often deemed by many well-travelled people to have the best street food in the whole of Malaysia, or perhaps even Asia. However, as we only had two short days there, and with limited space in our stomachs, we wanted to ensure we only had the most delicious.
Whether or not the food we had were really the best, I don't know, but boy were they yummilicious all the same. I'll just leave it for you to try it on your own and make your own decision.
The first of a two part food series on Penang, here is the list of some of the places we visited:
___
Located along Lorong Selamat (just off Jalan Macalister) are two coffee shops – Low Eng Hoo and Kafe Heng Huat.


Low Eng Hoo is made up of a group of stall owners selling a variety of food – Lor Bak, Char Kuay Teow, Assam Laksa, Kuay Teow Soup and Chendol, to name a few.
Lor Bak
Lor Bak, otherwise known as five-spice pork rolls, is served with deep fried prawn fritters and beancurd. The dish is freshly deep fried by the stall owner and served immediately, accompanied by two dipping sauces. The Lor Bak was crunchy and tasty, good enough to eat without the sauces.
Price: depends on what you order. This plate amounted to about RM6.
Curry Chee Cheong Fun
While Chee Cheong Fun directly translates to pig's intestine noodles in Cantonese, there aren't in fact any innards or even any pig parts in this dish. Instead, Chee Cheong Fun is made of rice noodle, and merely got its name because of its resemblance to pig's small intestines when rolled.
Curry Chee Cheong Fun is not something I've personally seen or tried before. This dish is doused in a curry gravy that is not very spicy, in my opinion, and also has cockles and fried bean curd added to it. The dish is served in a small portion, perfect for breakfast perhaps, but definitely not sufficient for a lunch meal.
Price: RM3
Char Kuay Teow
One of the main reasons why people would travel all the way to Lorong Selamat is to savour the Char Kuay Teow, a type of Chinese stir-fried flat noodles cooked with egg, beansprouts, lup cheong (preserved pork sausages) and cockles. While Char Kuay Teow is ubiquitous in Penang, many would claim that these two stalls serve up what is possibly the best of it all.
We approached one of the other stall owners there, asking which of the two was better. Speaking in perfect English, he gave us a very politically-correct response, saying that both had their own fans. He explained that both styles of cooking were slightly different. While one tended to produce a rather less oily and slightly "healthier" version, the other was more oily but smooth at the same time. We decided we had to try both for ourselves.
We first tried the one cooked by the stall owner at Low Eng Hoo. A man, decked in orange and wearing a pair of googles was the chef.
The prawns were crunchy to the bite and were my favourite part of the dish. However, the noodles itself were not very tasty and I felt that the chili that was added masked the actual taste of the dish.
Price: RM7
Char Kuay Teow, Kafe Heng Huat
This other char kuay teow stall is often referred to as Two Sisters' Char Kuay Teow. The cook (one of the sisters presumably) cooked with such fervour that sparks were flying all about as she fried.
Again, the prawns in this dish were crunchy to the bite. This time, however, the dish was more fragrant, less oily and tastier than the previous one we tried.
I'd say, and my companions would agree, that sisters won this game.
Price: RM7.50
___
Located just off the main road of Jalan Penang, Lebuh Keng Kwee is home to the famous Penang Road Chendol.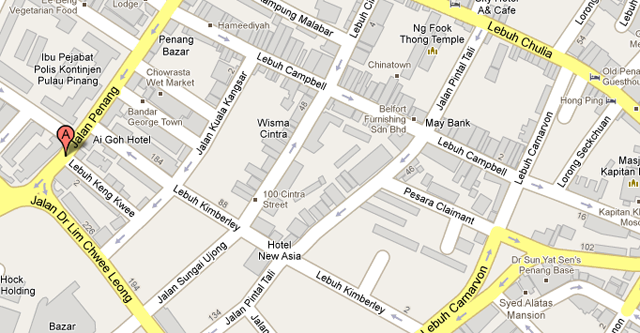 Penang Road Chendol
It is not difficult to miss this Chendol stall as hoardes of locals and tourists alike visit it everyday, creating an endless queue of people. To add to the queue, many often simply choose to stand by the stall after paying for the dish while tucking into that ice cold bowl of goodness, perfect for a typically hot day in Penang.
For the uninitiated, a bowl of Chendol contains ice, coconut, red beans, palm sugar, and of course the Chendol itself (strips of green bean flour).
While I personally felt that this Chendol contained a tad too much coconut for my liking, I decided that I was not exposed enough to Penang's Chendol, or Chendol in general to have a discerning enough tongue. This said, the Chendol definitely was pretty good and worth a try.
Price: RM1.90 (an additional 50¢ will be charged if you wish to consume the Chendol in the indoor seating area)
Assam Laksa
My favourite Penang dish of it all has to be Assam Laksa, hands down! My only regret was not getting a second bowl the first day I was there; when I went back the next day, the stall had already closed for the day. This stall is located just next to the Chendol stall.
Assam Laksa is a thick glass noodle dish with a sourish fish-based soup cooked with assam (tamarind), lemongrass and chili. The dish is then topped with shallots, pineapple, and a sticky prawn paste.
Oh, what awesome goodness.
Price: RM 3.50
___
This ends the first part of my Penang Food Series. Check out the second part of this series, here.
___
Special thanks to Alilfatmonkey, Ewen and Ivan for food recommendations